present__ -> nowadays is in the future! everything is postponed or will reopen hopefully end of January!
__WÄNDE | WALLS @ Kunstmuseum Stuttgart. 26 September 2020 – 31 January 2021. Extended to February, 21!!
Participating artists:
William Anastasi, Mel Bochner, Monica Bonvicini, Daniel Buren, Ernst Caramelle, Maurizio Cattelan, Elmgreen & Dragset, Parastou Forouhar, Robert Gober, Douglas Huebler, Sophie Innmann, Anne Marie Jehle, Emily Katrencik, Joseph Kosuth, Jeewi Lee, Sol LeWitt, Bruce Nauman, Brian O'Doherty, Yoko Ono, Charlotte Posenenske, Klaus Rinke, Gerwald Rockenschaub, Michael Sailstorfer, Martin Bruno Schmid, Felix Schramm, Thomas Schütte, Ulay / Marina Abramović, John von Bergen, Lawrence Weiner.
For those who cannot be there IRL, check out the Kunstmuseum's video channel or take a look here.
Don't miss to visit the cooperation projects Graffiti in the City @ StadtPalais – Museum für Stuttgart, Secret Walls Gallery @ Bonatzbau (HBF Stuttgart), Beyond Walls – Beyond Boundaries, Akademie Schloss Solitude @ Kunstmuseum Stuttgart once you're there!
__Dialog mit der Jugend @ Akku Stuttgart, visible through the window in Gerberstr. 5C
__Transmergence #02 | Frac Alsace, Sélestat (FR) -> postponed to January 2021
__Raum für drastische Maßnahmen Berlin with Nadjana Mohr | postponed to March 2021
__Kunst-am-Bau for Vector
__OUT NOW!! My first book SHORTCUT TO THE HIGHWAY, edited by Manuel van der Veen and published by modo Verlag Freiburg.
Write to mail at sophieinnmann dot com to get it!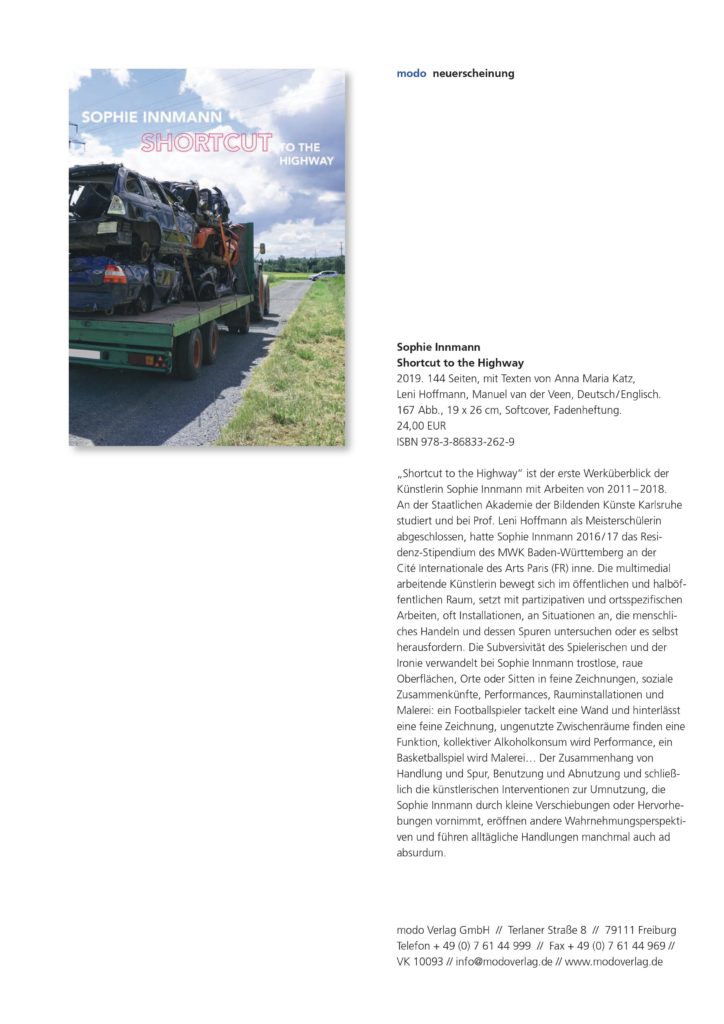 future__
__Hochrhein-Triennale | Hohentengen/Kaiserstuhl (CH) | invited by Alain Jenzer and Franz Krähenbühl -> postponed to summer 2021
__Sehsaal Vienna (AT) with Sanna Reitz and Konstantin Friedrich | invited by Melanie Dorfer
past__
__artist-in-residence @Fundaziun Nairs (CH)
The Unterengadin version of GoArtist VisitaDaChasa was great, check out a video compilation of the project here.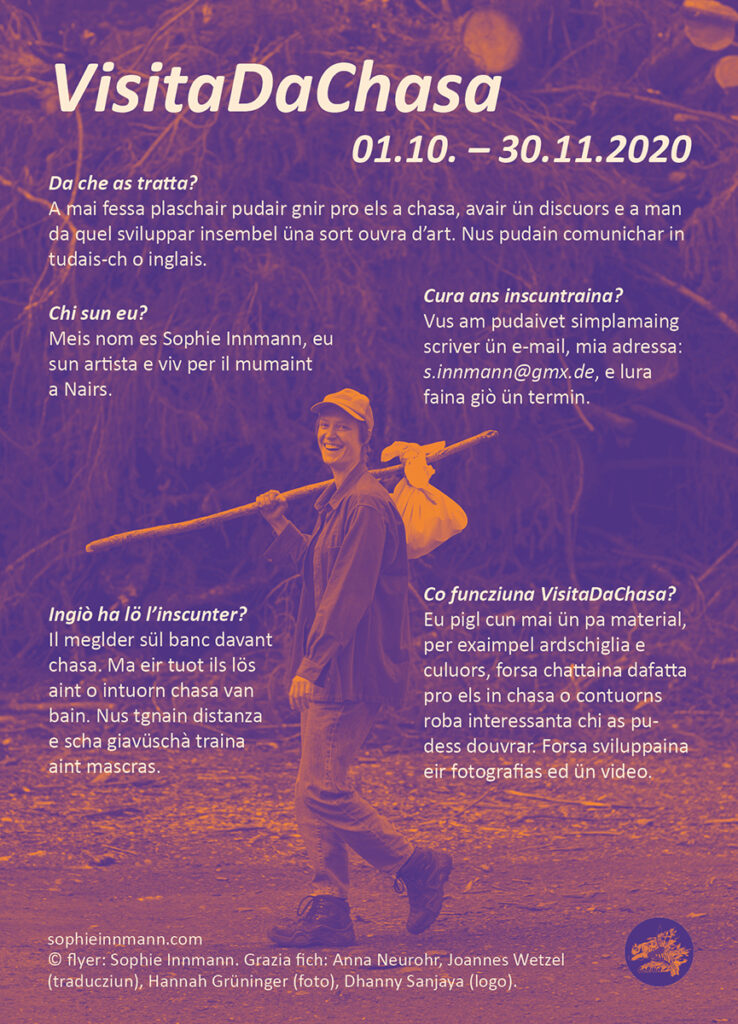 __PLUG IN @ Landesvertretung Baden-Württemberg Berlin. 23 September – 29 October 2020.
Monday – Friday, 9am – 4pm. Pls make an appointment by calling 030 – 25 45 64 00
Find a video documentation of the project here.
Participating artists:
More than 200 members of Künstlerbund Baden-Württemberg, find all names here.
__work scholarship Stiftung Kunstfonds Bonn 2020
__Crisis? What Crisis? @ Port25 Mannheim. 19 September – 08 November 2020.
Participating artists:
Doris Erbacher, Martin Gerwers, Sophie Innmann, Jonas Maas, Franziska Reinbothe
-> get a first impression online
__artist-in-residence @ Cemeti – Institute for Art and Society in collaboration with Goethe-Institut Indonesia
__sunny driveby | artists unlimited Bielefeld | solo show and book presentation | invited by Anna Maria Katz
__Nordbecken festival | Karlsruhe | invited by Nemanja Sarbajic
__public pool #7, Marseille, with Konstantin Friedrich
organized by CEA / Association française des commissaires d'exposition, Goethe-Institut Marseille and Friche la Belle de Mai
__artist-in-residence in Kuenstlerhaus Stuttgart
__whodunnit??? | show with Sanna Reitz and Konstantin Friedrich in AKKU Stuttgart
__Paris³ | Galerie GRÖLLE pass:projects Wuppertal | invited by Jaana Caspary
__ADATA AiR, Plovdiv (BG) with Stefan Wäldele
__Raum für Kunst – Simultanhalle | Moscow Museum of Modern Art (RU) | invited by Kriz Olbricht
__Salon International des Arts | CIA | Paris (FR) | invited by Boban Andjelkovic
__Trunk | KV Lüneburg | invited by Sebastian Dannenberg
__Last One Out Turn Off The Light | galerie l`inlassable | Paris (FR) | invited by Gabriel Hensche
__different ways | Karlskaserne Ludwigsburg | invited by Isabell Ohst
__swap meet | Regis Center for Art | Minneapolis (US) | invited by Koch & James